Venue info
The address for the venue is  Swedish University of Agricultural Sciences (SLU), Loftets bankettsal,  Duhrevägen 8, Uppsala
It is located in the old farm house ("Ladugården") which has the restaurang Ulls restaurang on the entrance floor. The entry to the Loftets bankettsal is through the wooden bridge which is on the north side of the building (ie facing the other university teaching buildings)
 This is the interior: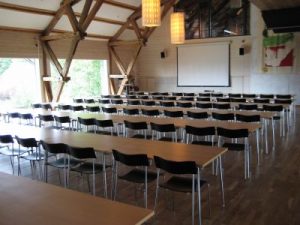 Swedish University of Agricultural Sciences (SLU) is a renowned public university located in Uppsala, Sweden. The university has several campuses, but its main campus is located in Ultuna, which is about 5 kilometers south of Uppsala city center.
The Ultuna campus is home to several faculties and departments, including the Faculty of Veterinary Medicine and Animal Science, the Faculty of Natural Resources and Agricultural Sciences, and the Department of Urban and Rural Development. The campus is known for its beautiful green surroundings, as well as its modern research facilities and laboratories.
The university has several lecture halls, classrooms, and seminar rooms for teaching and research purposes. It also has a library, computer labs, and sports facilities for students and staff to use. In addition, SLU hosts various events and conferences throughout the year, which take place in its many conference rooms and auditoriums.