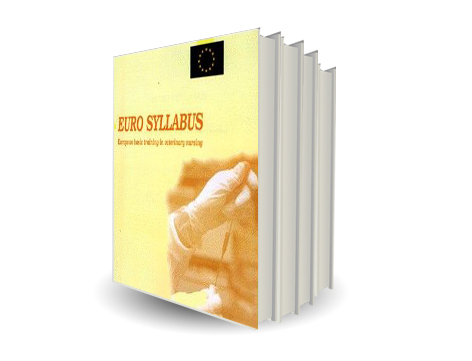 The Euro-syllabus was developed and produced by an international partnership of vocational training centres, national certifying bodies and representatives from the profession. Financial support has been granted by the Leonardo Da Vinci programme of the European Union and from a budget of the involved project partners themselves.
This basic European training programme details the minimum requirements for working as an assistant in a veterinary practice. Students following the Euro- syllabus are trained to a basic level in those tasks undertaken frequently and are able to cope with the day-to-day ethics and hazards involved in working in a practice environment. It has been designed as a modular approach to allow integration with existing programmes and provide easy updating when necessary. Furthermore, the modular approach enable students to complete their programme across intitutions within Europe.
The Scottish Vocational Qualification institute (SQA, the former Scotvec), was the first institute to officially award this basic training programme with a qualification title of 'veterinary care assistant'. Both project partners and the VETNNET members feel this is a positive step towards future training of veterinary nurses in Europe.
Download – Euro Syllabuseurosyllabus
Copyright:
VETNNET, 25 October 1997, Barneveld, The Netherlands.